Born and raised in Lancashire, Matthew was awarded a place at the Royal Ballet School in 1990 where he studied until graduating in 1997.
His first four years as a professional were spent working with a number of companies including London City Ballet, Scottish Ballet, K-Ballet and English National Ballet. He became a full time member of English National Ballet until 2006.
Matthew graduated from the Royal Academy of Dance, Professional Dancers Teaching Diploma with Distinction in 2007. He has since become a teacher based in the U.K. working for such establishments as the Royal Academy of Dance, English National Ballet, Lewisham College, Italia Conti, Millennium Performing Arts, Dance East, Laban, London Studio Centre, Roehampton University, Northern Ballet School, Royal Ballet School associate and partnership/access departments, and the Education Department of the Royal Opera House. He has also taught internationally in Japan, Indonesia, Singapore, Australia and Italy.
Matthew continued his studies with an MA in Ballet Studies at Roehampton University graduating in March 2012, and is currently studying Benesh Movement Notation.
Breanne Wilson, originally from Calgary, Alberta, Canada, started her early dance training under the direction of Cyndi Scott. She then trained and performed under the direction of Umran Sumen at the International School of Ballet. There she completed her Royal Academy of Dance ballet exams up to the Advanced II level receiving Distinction. She also danced with Jeunesse Classique Ballet performing many different roles, some of which include Sugar Plum Fairy in The Nutcracker, and Waltz Soloist in Les Sylphide. She also appeared on the finals week episodes of the hit TV show So You Think You Can Dance Canada where she made it to the top 50 finalists. She later attended The University of Arizona School of Dance on scholarship. She graduated Summa Cum Laude, receiving a Bachelor of Fine Arts in Dance, as well as a Minor in Business Administration. There she was fortunate to have the opportunity to work with several choreographers and perform many pieces some of which include, Rubies by George Balanchine, Megalopolis by Larry Keigwin, Evolution of a Dream by Sherry Zunker, Fire Bird by Ernie Flatt, and Panorama by Martha Graham. She also performed a pas de deux in the Opera, Die Fledermaus, in a collaboration between the University of Arizona School of Dance and School of Opera. Breanne received several scholarships while at the University of Arizona including an International Student Tuition Scholarship, The Maccorquodale C Scholarship and she was a Medici Scholar award recipient for two years. She spent her summers training at the intensives of several companies including River North Dance Chicago, Hubbard Street Dance Chicago, Joffrey Ballet, Alberta Ballet and the Rockette Invitational Week. She also enjoys sharing her love and passion for dance through teaching. She has taught a variety of dance classes for Edge School for Athletes teaching throughout Alberta in Calgary, Grand Prairie and Fort McMurray. Breanne has modeled for the KADYLUXE brand and was chosen as the cover model for photographer Ed Flores gallery showing entitled, Heaven and Earth. Breanne is currently a company member with Odyssey Dance Theatre in Salt Lake City and is in her second season with the company. She has performed several shows with the company including Romeo and Juliet, Giselle & Carmen and has completed two European Tours performing throughout Germany and Switzerland.
Tina Pereira was born in Port of Spain, Trinidad and trained at Canada's National Ballet School. She joined The National Ballet of Canada in 2001, leaving in 2004 to dance with Dutch National Ballet. Ms. Pereira re-joined The National Ballet of Canada in 2006 and was promoted to First Soloist in 2009.
Ms. Pereira's repertoire includes The Sugar Plum Fairy in The Nutcracker, Lise in La Fille mal gardée, Katerina in The Taming of the Shrew, Spring in The Four Seasons, the title role in Carmen as well as lead roles in Symphony in C, Monotones I, Chroma and In The Upper Room. Her repertoire includes Giselle, The Sleeping Beauty, Swan Lake, Romeo and Juliet, Cinderella, Alice's Adventures in Wonderland, The Second Detail and Emergence.
In 2007, Ms. Pereira won The Seventh International Competition for The Erik Bruhn Prize and was invited to perform Prokofiev Pas de Deux at the New York debut of Morphoses.
TOKYO has a very unique induction into dance as he was not introduced to dance until he was a Senior in high school. TOKYO began training in martial arts at age 5. At age 17, after a promising undefeated amateur career, just a few months shy of making a professional career in MMA (mixed martial arts/cage fighting), TOKYO discovered dance and his life changed drastically. Since leaving the "fight world" and entering the dance world, TOKYO has been fortunate enough to have done master classes and choreography in the US, Canada, Australia, Central America, France, Poland, Ukraine, Croatia, Mexico, Ireland, Scotland and UK for many music artists, TV shows, music videos, musicals, studios, companies, colleges, casinos and Cirque Du Soleil. TOKYO is returning from Ukraine where he was a special guest judge for So You Think You Can Dance-Ukraine (International season). While in his time in Europe, TOKYO choreographed the largest musical production in France's history, Adam et Eve. TOKYO also choreographed for MTV Music Video Award nominated music video "Holding onto You". TOKYO is currently on faculty at the world renowned professional dance studio Millennium Dance Complex. Most recently, TOKYO and Alisha Captain launched an incredible training program (TOKYOtheACADEMY) where dancers from all over the world come to train and enhance their talents!
Rachael Poirier has more than 24 years of experience as a choreographer and dance instructor. She has trained throughout North America in cities including Vancouver, Toronto, New York, and Los Angeles. Her dances have captivated audiences across Canada, the United States, and as far away as Japan, China, Bulgaria, Greece and Sweden. Her creations have won numerous awards for their innovative
style and consistent originality. She has choreographed for many industrial shows such as EA Games, Deloitte International Accounting at the Vancouver Convention Centre, Currency International Research
Program at the Rockey Mountaineer Train Station, L'Oréal International at Pan Pacific, the opening acts for the B.C. Country Music Awards, Michael Bublé, and the world-renowned magician, Juliana Chen.
Rachael founded Danzmode Productions in 1994, which quickly established itself as one of Vancouver's elite dance institutions. Many students from Danzmode Productions have had a dominant presence
at local and international competitions and shows. Many of the alumni moved on to professional dance careers in world tours and music videos with artists such as Janet Jackson, Britney Spears, Rihanna,
Mariah Carey, Chris Brown, Beyoncé, Pharrell, Cee Lo Green, Prince, Mia Michaels, and Jennifer Lopez. Several of her students have been seen in the Top 40 for So You Think You Can Dance, the Emmy
Awards, The Grammy Awards, the Tony Awards, the Voice and the Super Bowl. Rachael has choreographed routines and demo reels for university applications and many of her students have moved on to dance for prestigious academies and companies including the San Francisco Ballet, the Washington D.C. Ballet Company, Houston Ballet, Ballet BC, Point Park University, Juilliard, Alvin Ailey, Nederlands Dans Theater and the National Ballet of Canada.
Dancers of Rachael's, represented with her choreography, have gone on to compete and win the B.C. Provincials in Ballet, Modern, Jazz, and Musical Theatre categories. In 2004, her innovative choreography for Alex Wong's "Capture of the Tiger" solo became the first Canadian winner at the Prix De Lausanne in Switzerland. This piece has also been performed with A.B.T. Studio Theatre N.Y. in 2005, the Miami City Ballet Company in 2006, and has most recently been seen during Vegas week on "So You Think You Can Dance" where Alex Wong was a finalist. Her inventive work for Kostya and Fei Fei's Contemporary piece "Innocence" was awarded a Bronze Medal in the Varna Competition in Russia and was later performed with the Shanghai Ballet Company. She has been awarded several Choreography Awards at Youth American Grand Prix for for Miguel Nguyen, Martina Prefontaine's performance of "Hummingbird" which contributed to her winning the Hope award at 10 years old in Seattle in 2012, Melissa Ong's performance of "Attitude with Strings" in Carolina in 2007, and Alyssa Steven's performance of "Womb" in Los Angeles in 2007 and in San Francisco in 2009. Kirsten Wicklund was in the top 12 at the finals of Youth America Grand Prix in New York City, where she performed contemporary solo "Nothing Else Matters" choreographed by Rachael Poirier.
In 2006, Kirsten Wicklund won the National Teen Outstanding Dancer title at NYCDA. Dancers Tiffany Tregarthen, Stephanie Moseley, and Bynh Ho, all represented with Rachael's choreography, were in the
top 4 at New York City Dance Alliance Finals. In 2008, Miguel Nguyen and Rina Watanabe won the Gold Medal at the World Championships in Norway for modern dance. One of her most successful ommercial
dancers, Stephanie Moseley, is known for her works in TV series Hellcats and Hit the Floor.
Rachael has been dancing since she was 5 years old and has been instructing and creating dances for the past 25 years. To quote a colleague, Ronelle Rhodes, "Rachael's choreography was in a league of its own, it stirred a massive shift in the lower mainland and challenged local teachers. She (singlehandedly) was a huge contributor to the modernization of a lot of Dance-Arts in the studio scene and beyond."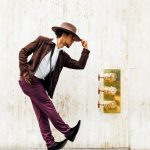 Born and raised in the Bronx, the Birth Place of Hip Hop, internationally accredited dancer/choreographer/actor, Anthony "Kanec" Carr, has shared his talent through various mediums including television, film, and stage. He trained vigorously at New York City's prestigious School of American Ballet, while simultaneously attending the Professional Performing Arts School (PPAS). At the age of 18, Kanec began training in hip-hop at Broadway Dance Center. Soon thereafter, he became a member of an elite group of entertainers, The Amount Boyz. His raw talent and intense technical training, in combination with his natural knack for performing and the inspiration from his fellow group members, Kanec soon found himself on pop-star, Justin Bieber's, World Tour. Kanec can be seen working with multi-platinum selling recording artist Missy Elliott, with whom he's performed the 2015 Katy Perry SuperBowl Halftime Show with. Along with Missy Elliot, Kanec has performed with Nicki Minaj, Usher, Chris Brown and Nick Jonas to name a few. He has also been a featured dancer in multiple movies and television shows (Step Up, FAME, Hairspray, BunHeads, Glee) and performed on many high profile stages such as the Grammys and the Oscars as well as all of the other musical Award Shows!